Selling your home is much more work than buying a new home. Just ask anyone who has done it. If you've never sold a home before, you may be surprised at how complex it can be. From proper preparations and spending money in the correct places, to navigating contractual agreements; it's an exhausting process. The best place to start is by talking to The Whiteman Group. We will give our advice through each step of the process and leverage our experience. The Whiteman Group will keep you focused on the things that will help you sell your home fast and for top dollar. Below is a list of 10 items that most Realtors will advise you to work on before listing your home for sale.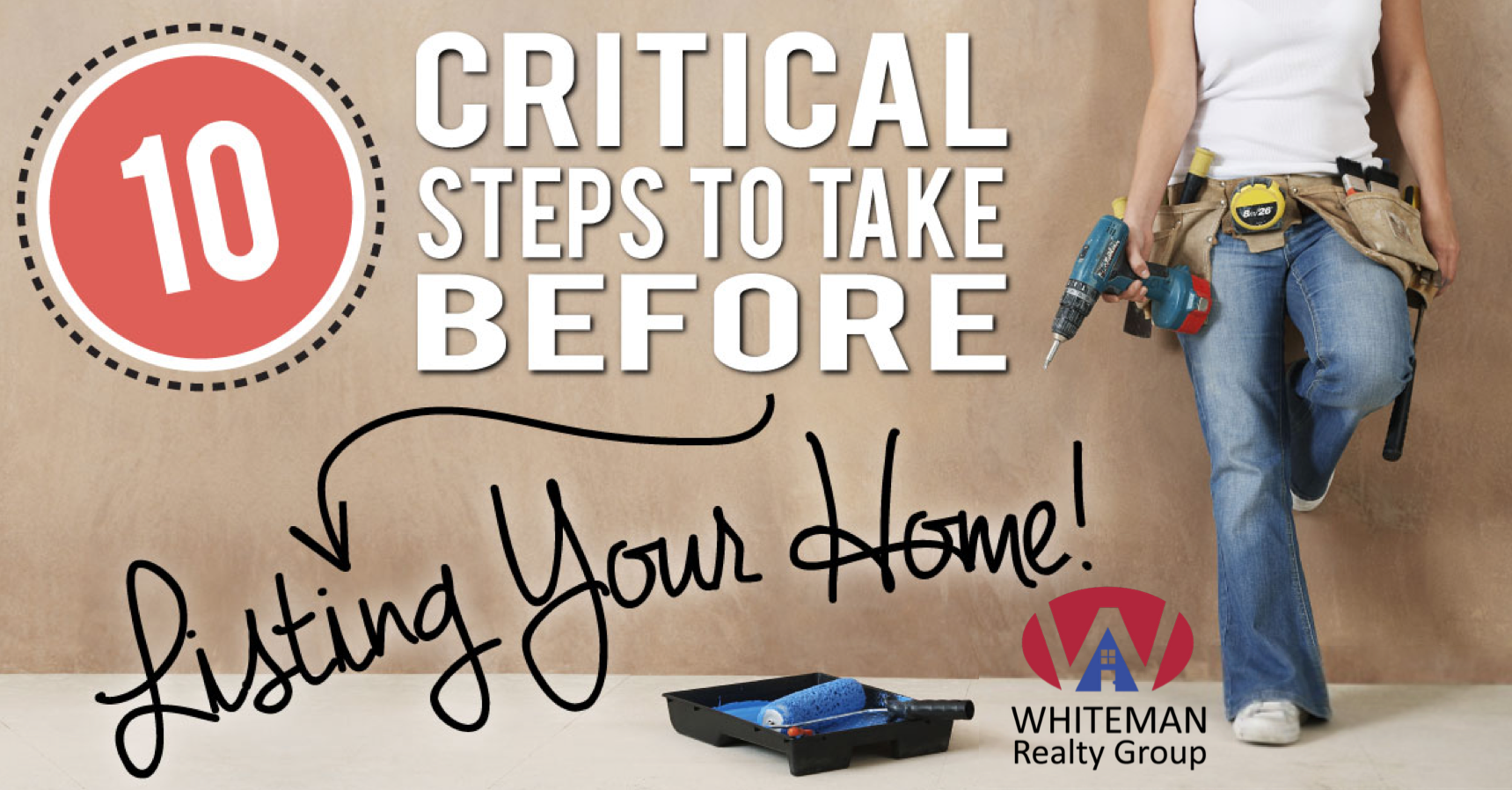 ---
Remove Personal Decorations
There will be many different types of people looking at your home when it is listed for sale. To encourage the most positive feedback, it's best to create a neutral environment. The best way to do this is to remove any objects that reflect your personal choices and lifestyle. If a buyer can walk through your house and determine your religious preference, family size, profession, and/or favorite alcoholic beverage, you may have a problem. Some buyers have a hard time emotionally attaching to a home when a sellers lifestyle choices are front and center. This is particularly true when those choices conflict with theirs. Take out most evidence that you even live there and you will be on the right track. It will also help you to emotionally detach from your home and to start thinking of it as someone else's. Remeber the buyer of your home is not you. It is someone perhaps of a different age, culture, and background
---
Hire A Home Inspector
Once you have an executed a sales contract with a buyer, the first thing the buyer is going to do is hire a home inspector to inspect your house. Why not beat them to it? An inspection usually costs around $400 in Columbus. That's pennies in the grand scheme of things. Tackle all of the repairs upfront and you will not be surprised by buyers who supply a list of problems to take care of. Inspections are the #1 deal killer in this industry. You can eliminate the whole problem by dealing with the issue right up front. Sure, it may cost you some money out of pocket, but that is money that you will most likely be spending anyway. Buyer's will second guess a house if the inspection report is loaded with issues. In our experience, when buyers know that there has been a previous inspection and all repairs have been made, they are more willing to pay top dollar.
We just had a deal where the home owner had not been to the property in a couple of years and had been renting it out. He put it on the market and my buyers wanted it. We recommended a septic, radon, well, and full home inspections. All revealed this property had issues. The seller was livid when he received the list of repairs. He was hoping for the best possible scenario and set himself up for disaster. If he would have just inspected these items before listing, it would have never been a problem. We led the buyers in the negotiations for the repairs, as they still wanted the home. Performing an inspection before listing is well worth the expense.
---
Clean Everything Thoroughly
Everyone has a different definition of "clean". When you're listing your house for sale, you need to get Martha Stewart clean! Pretend that you're selling your house to a germaphobe. If you can afford it, hire a professional cleaning crew to spend a whole day doing a deep clean. It's well worth the money! When a house is un-kept, it can be hard for buyers to emotionally attach to it, even if they are not clean people themselves. It's an interesting irony that many home buyers expect the house they buy to be cleaner than the one they currently live in. A clean house gives the impression that the property has been well maintained and is easy to move into.
---
Remove Evidence of Pets &/or Kids
To sell your home quickly and for the most money, you want to appeal to every possible buyer. Not everyone is a fan of kids and/or pets. Your house may be the perfect layout, price, and design but if it smells like animals or has toys stuffed in every corner, you may have just lost your buyer. We have worked with clients that are so sensitive to pet dander that they won't even finish walking through the house if there is evidence of animals. Sometimes they will rule out a house simply based on seeing litter boxes in the property photos. Another reason for professional cleaning is ridding the home of pet smells.  Odors can cause buyers to say "not this house".
Some areas in Columbus are very pet friendly. Some residents bring pets when they go to breakfast, get their hair cut, or even shopping. It seems as if everyone in this town loves animals, but it's just not the case. There are many people with pet allergies; one of them might be your perfect buyer. Take the time to make your house appeal to them and it will pay off!
Statistically, odors are one of the most common reasons for a home to stay on the market for a long time. A home that has been ravaged by children can be equally unappealing though. Be sure that any evidence of your kids' presence in your home is kept to a minimum.
---
Replace Outdated Fixtures
This is an easy fix that can have a huge impact. If you have brass door handles and brass chandeliers, you should replace them. It makes your home look dated. You can buy a contractor pack of brushed nickel door handles for $5 a piece at home improvement stores. If you are appealing to higher end buyers, spend some money for designer door handles. If you have old outdated light switch covers, replace them all. You'll be surprised by how much of a difference it will make. Walk through your house and try to identify every fixture that reveals the date of the home. Replace as many of them as possible. This includes plastic knobbed faucets to the entry chandelier.
---
Shampoo and/or Replace Carpets
Carpets show more damage than almost any part of your home. If the carpets are not stained and are newer, you can get away with simply getting a deep clean from a professional carpet cleaning company. If cleaning will not restore them, replace them.
A home with worn out dirty carpets is hard to sell. If the property is a foreclosure, or priced under market value, it's not as big of an issue. However, if you want to compete for top dollar, tackle this objection before listing. Carpets hold dirt and odor. It is so important that they look and smell clean for your showings.
---
Touch Up and/or Re-Paint
If it's been more than a year since the interior of your house has been painted, then it's time for some touching up. If you have paint left over from the last time you painted, use this to touch up areas when there are nail holes, scrapes, hand prints, etc. Touching up existing paint is very easy and makes your home look new again. If you do not have any touch up paint, you can try to peel off existing paint, or cut a small section of sheetrock (which you can repair later) … about the size of a penny will do and take the sample from an area not noticeable, like in a closet or behind a door. Take the sample to a local paint store and have them color match it.
Renew your wood trim, doors and cabinets.  Use Old English furniture polish to hide nicks.  You'll be amazed and the buyers will not see these imperfections.
f you have any strong colors in your house (purple, burgundy, lime green, etc.), it would be wise to paint over them with a neutral color. We tell clients that they should not have more than 3 neutral colors in their home. The more colors, the more chance you have for objections. You can't take it personally if someone else does not share your affection for orange. There are many types of people and you're trying to appeal to as many as possible. Neutral colors are the way to appeal to the greatest number of buyers.
Then consider furnishings and drapes have to match as well. When you look at it this way it's easy to see that the probability of your strong color choices working for most buyers is quite slim. People will rarely object to buying a home with neutral colors, but will often object to a home with strong colors.
If you have exterior paint in need of restoration, take the time to work on it as well. This includes mailbox posts, fences, storage sheds, house siding, and trim work. The exterior of your home needs to look well maintained to encourage a good offer from a buyer.
Bonus Tip: Paint makes a home smell new. People love new! If you have door trim with oil based paint, find a match to that paint and keep it handy. Before a showing, dab a little bit of paint on top of the door trim where no one would place their hands during a showing. The smell from the paint makes the home smell new. Oil based paint has a strong lasting odor, so only use a small amount.
---
Get a Storage Unit
If you actually live in your house like most people do, then your closets are full and your garage is packed from floor to ceiling. This is normal. The problem is that some of the homes you will be competing with are either vacant, or almost vacant. These homes show much better and buyers can visualize themselves moving in much easier.
To stay competitive, it is wise to rent a storage unit and start loading it with everything that you are not going to need while your house is on the market. Start with all of your memorabilia and pack the unit with the items that you are least likely to need in the back. The more you put in storage, the better. If you have to question, "Should I store this?", the answer is: "Yes!". Start packing as though your house is sold and you only have a month left in it. The more you put in storage, the less you will need, because your home will sell much faster! Buyer's love homes that look move in ready!
---
Freshen Up Landscaping
Statistically, landscaping is the biggest bang for your buck when listing your house for sale. We've all heard about the importance of "curb appeal", and know that first impressions are HUGE in real estate. The fastest way to freshen up your landscaping is new mulch. Spread a layer of it all throughout your landscaped areas. This is inexpensive and requires very little time commitment.
If you'd like to make an even better first impression, plant some colorful flowers which will make your new mulch stand out even more. Trim any over grown plants and bushes and clean up your outdoor spaces to look new again. In a city with weather as beautiful as ours we spend a lot of time outside, so it's likely to have a big impact on your buyers decision to purchase your home.
---
Get Specific Advice From a The Whiteman Group
Every property is different and will have unique and specific areas to address. Experienced Realtors like The Whiteman Group look at dozens of homes with home buyers every week. When we walk through your house at a listing appointment, we have buyer's voices in our heads calling out objections. We know what buyers want because they tell us every day. Every market is different and there are different tactics for each area. The Whiteman Group will point out all of the objections that you can expect to hear from your potential buyers. There will always be Sellers that don't want to hear it, but this is extremely valuable information, so be sure to take advantage of it early on in the listing process.
---
Final Thoughts
As you read through the list above, don't be intimidated by the scope of work. Make a list of things that you feel are important for your home sale and then plan them out accordingly. Tackle one item at a time and before you know it, your list is done. Once your house is ready to put on the market it will most likely get an offer before your competition does. Many sellers will try to avoid some of the steps mentioned above. If you take the time and expense to tackle these issues, your house should outshine the others and sell for the highest sales price possible. When it comes to selling your home, the adage "you get out what you put in" rings exceptionally true. Your efforts will be well rewarded!